The growth of this market can be attributed to the inclination of customers toward faster and reliable test results, growth in incidences of foodborne illnesses, globalization of food trade, increase in preference for on-site testing, and stringent international food safety regulations.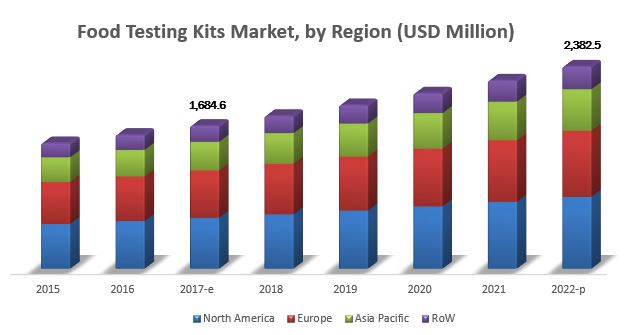 For More details on this research, Request Free Sample Report
The global market, based on target tested, is segmented into pathogens, meat species, GMOs, allergens, and mycotoxins. The pathogens segment is estimated to dominate the market with the largest share in 2017, due to global occurrences of incidences such as foodborne illnesses caused by pathogens. In developed countries, millions of cases of infectious gastrointestinal diseases are reported each year due to foodborne pathogens, costing them billions of dollars in medical care and lost productivity.
The food testing kits market, on the basis of technology, is segmented into PCR-based, immunoassay-based, enzyme substrate-based, and others. The immunoassay-based segment is estimated to dominate the market in 2017. Immunoassay-based technology has several advantages such as cost-effectiveness, rapid test results, and ability to carry out screening of multiple targets such as pathogens, meat speciation, GMOs, allergens, pesticides, mycotoxins, and other residues.
The global market, based on sample, is segmented into meat, poultry, and seafood; dairy products; packaged food; fruits & vegetables; cereals, grains, and pulses; and nuts, seeds, and spices. The meat, poultry, and seafood segment is estimated to dominate the market in 2017 and is projected to grow at the highest CAGR through 2022. The reason for the large market share of this segment can be attributed to the strict regulatory mandates provided by leading authority to ensure food safety and prevent meat and meat product contamination.
The North American region is projected to dominate this market by 2022. The Asia Pacific region is projected to be the fastest-growing market during the forecast period. The market in this region is driven by the increasing export activities, which need onsite testing and faster test results to meet the standards & regulations enforced by different countries and regions.
The market for food testing kits in developing countries lacks food control infrastructure and resources; also, there is lack of support from international agencies such as FAO, the WHO, and the World Bank. There is also lack of harmonization of food safety regulations and implementation of heavy duty on import of test kits in various regions, which is also restraining market growth. These are few restraining factors that affect the growth of food testing kits market, globally.
New product & technology launches, expansions, acquisitions, agreements, collaborations, and mergers & partnerships are the key strategies adopted by market players to ensure their growth in the market. The market is dominated by players such as Thermo Fisher (US), Agilent (US), Eurofins (Luxembourg), bioMérieux (France), and Neogen (US). Other major players in the market include PerkinElmer (US), Bio-Rad (US), QIAGEN (Germany), EnviroLogix (US), IFP Institut Für Produktqualität (Germany), Romer Labs (Austria), and Millipore Sigma (US).
To speak to our analyst for a discussion on the above findings, click Speak to Analyst