The major factors responsible for the growth of connected car devices market include the introduction of advance technologies such as adaptive cruise control and lane departure warning systems in premium and mid-segment cars and rising awareness about vehicle, driver, and pedestrian safety.
Devices used to communicate/exchange information about the vehicle with other entities such as vehicles, infrastructure, pedestrians, or cloud are called connected car devices. The systems falling under DAS (adaptive cruise control, blind spot detection systems and many more), telematics, and security systems which allow the vehicle to communicate and exchange information are considered as connected car devices. The connected devices allow V2V, V2P, V2I, and other type of communication.
The connected car devices market has been segmented, on the basis of connectivity mode, into Dedicated Short-Range Communication (DSRC) and cellular network/ Wi-Fi. The market for DSRC is expected to grow at the highest CAGR between 2016 and 2021. DSRC was developed majorly for application in the automobile sector. The main aim of developing this communication type was to prevent crashes and provide communication among vehicles (V2V), infrastructure (V2I), and passengers (V2P). The major applications of DSRC include e-parking, toll payment systems, blind spot detection systems, and collision warning system.
The Asia-Pacific region is projected to witness the highest CAGR from 2016 to 2021. The major factors responsible for this region's growth include increasing demand for driver assistance systems and government laws favoring the implementations in passenger cars, especially in developed countries like Japan and South Korea. These two countries have vehicle safety regulations equally stringent as that of Europe and North America. Additionally, improving socio-economic conditions in countries such as India, Thailand, and Indonesia have resulted in the growth of demand for premium segment passenger cars, which in turn has accelerated the market for connected car devices in these countries.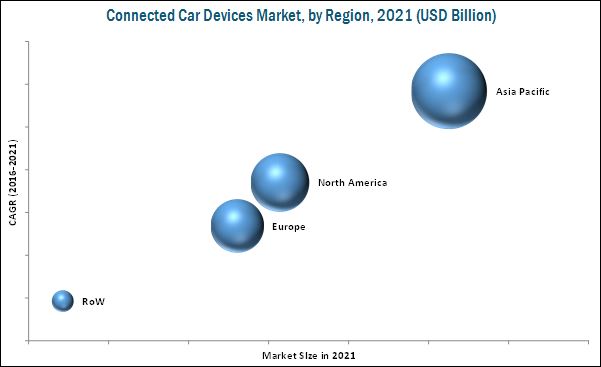 Increasing penetration of telecommunication services in automotive industry drive the growth of reed sensor market
Vehicle to Vehicle
Vehicle-to-vehicle (V2V) is a technology that is designed to establish communication among automobiles. Vehicle-to-vehicle is a short range type of communication. This technology requires wireless transmission of data between vehicles. The main reason for the development of such technologies is to prevent accidents by allowing vehicles in transit to send position and speed data to one another over an ad-hoc mesh network.
Vehicle-to-Infrastructure
Vehicle-to-Infrastructure (V2I) is a technology that is designed to establish communication between vehicles and other entities such as roadside units, signs, and traffic lights. In V2I, the infrastructure plays a coordination role by gathering global or local information on traffic and road conditions and then suggesting or imposing certain behaviors on a group of vehicles. The basic components of a V2I communication system are On-Board Unit or Equipment (OBU or OBE), Roadside Unit or Equipment (RSU or RSE), and safe communication channel.
Vehicle-to-Pedestrian
Vehicle-to-Pedestrian (V2P) technology is used to establish communication between vehicles and pedestrians. This technology was developed to avoid the pedestrian fatalities. The V2P approach encompasses a broad set of road users including people walking, children being pushed in strollers, people using wheelchairs or other mobility devices, passengers embarking and disembarking buses and trains, and people riding bicycles. Most of the OEMs and Tier1 suppliers are working toward the development of such high-end technologies. Recently, Honda displayed its vehicle-to-pedestrian technology that will be implemented in its upcoming cars.
Critical questions the report answers:
Software-defined-car offers opportunity to the traditional Tier-2 electronics suppliers to engage with OEMs as Tier-1 suppliers by leveraging software development for their electronics. What are the opportunities for these stakeholders in this ecosystem of connected car devices?
Where will all the developments take the industry in the mid to long term?

The key factors restraining the growth of the connected car devices market is lack of infrastructure to support connectivity. The connected cars are majorly dependent on connectivity. Without proper connectivity, the car might lose its control and might even crash. The major functions such as navigation, infotainment, and emergency calling (E-call) depends on connectivity. Hence, lack of connectivity can lead to disastrous conditions in the case of connected cars. According to recent reports, telecom companies in India, Indonesia, China, and parts of South America are dealing with the problem of lack of infrastructure to support uninterrupted connectivity.
The major problem with the developing countries is a lack of infrastructure in the rural parts. The majority of the population in developing countries live in the rural parts, and thus the lack of infrastructure means lack of connectivity, which is one of the reasons for the lack of adoption of the connectivity services in these regions.
The global connected car devices market is dominated by key manufacturers such as Continental AG (Germany), Denso Corporation (Japan), Delphi Automotive, PLC (U.K.), Robert Bosch GmbH (Germany), and Autoliv Inc. (Sweden) among others. These players are increasingly undertaking mergers and acquisitions, and product launches to develop and introduce new technologies and products in the market.
To speak to our analyst for a discussion on the above findings, click Speak to Analyst