The wellness supplements category is an aggregate of wellness food & beverage products and supplements. These supplements are taken in addition to a regular diet for enhanced nutrition and improved health. Wellness supplements market is experiencing remarkable growth due to growing aging population and related health concerns which propels the demand for nutritional supplements with proven health benefits. The growth of wellness supplements market is majorly driven by factors such as increasing focus on healthy lifestyles, increasing disposable incomes in emerging economies, and rising awareness about wellness products and shift from care to preventive health. However, high costs associated with wellness supplement products, lack of distinction from traditional food categories and changing regulatory policies are the factors limiting the growth of the wellness supplements market.
The global wellness supplements market is expected to reach USD 249.4 Billion by 2020 from USD 183.1 Billion in 2015 at a CAGR of 6.4% during the forecast period. The Wellness Supplements market is segmented based on products and region. Based on products, the wellness supplements market is segmented into dietary supplements, functional/fortified food & beverages, food intolerance products and dermo-cosmetic essentials.
The dietary supplements segment is expected to grow at the highest rate in the forecast period. The dietary supplements segment is further segmented into herbal supplements, vitamin supplements, protein supplements and mineral supplements. The herbal supplements market is estimated to hold largest share in the dietary supplements market in 2015. The growth in this segment can primarily be attributed to the increasing demand and acceptance of natural and organic products. However, protein supplements are expected to grow at the highest CAGR of 10.4% during the forecast period, owing to their rising demand among consumers belonging to all age groups.
The wellness supplements market is fragmented in nature, with several big and emerging players. There is no distinct leader in wellness supplement market as each product segment is dominated by a bunch of players. Thus, market players are focusing on adopting novel techniques to distinguish their products from those of their competitors, which makes the wellness supplements market highly competitive. Players are focusing on innovation in order to differentiate their product offerings in the market. Companies are also focusing on adopting various organic and inorganic strategies such as new product launches; expansions; acquisitions; and partnerships, agreements, and joint ventures to develop novel wellness supplement products, in order to improve their product offerings, satisfy customers' needs, increase their profitability, and expand their market presence.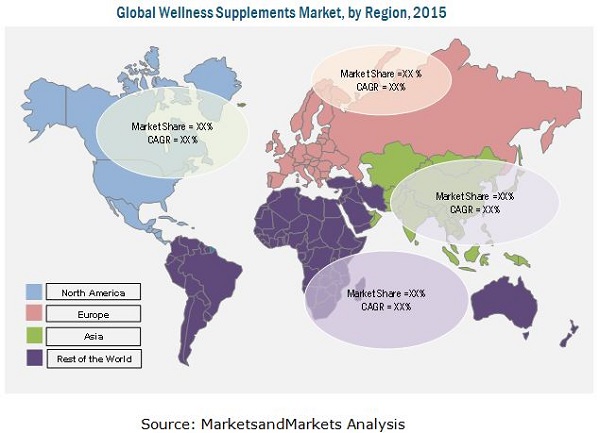 The wellness supplements market is dominated by North America, followed by Europe, Asia, and the Rest of the World. While North America is expected to dominate the market in 2015, Asia and Rest of the World are expected to grow at the highest CAGR during the forecast period. Factors such as rising aging population, growing cognizance and acceptance of wellness products, increasing disposable income levels, increasing focus towards healthy lifestyles, expansion of wellness supplement companies in these regions are likely to propel growth of wellness supplements market.
Prominent players in the wellness supplements market include Nestle S.A. (Switzerland), Abbott Laboratories (U.S.), Amway (U.S.), Otsuka Holdings Co., Ltd. (Japan), Herbalife Ltd. (U.S.), Archer Daniels Midland Company (U.S.), Glanbia plc (Ireland), NBTY, Inc. (U.S.), GNC Holdings Inc. (U.S.), and Nu Skin Enterprises, Inc. (U.S.). Other players in the market include Grupo Omnilife (Mexico), Forever Living (U.S.), Pola, Inc. (Japan), Shaklee Corporation (U.S.), and Usana Health Sciences Inc. (U.S.).