The global IoT insurance market is estimated to grow at a CAGR of 65.89% to reach USD 42.76 billion by 2022. The growing adoption of Internet of Things (IoT) products in developed and developing economies, growing demand for cloud platform and other value-added services in the insurance industry are the major drivers for this market. The IoT-enabled devices provide intelligent data for insurers to help them track health, detect abnormalities, and reduce risks for policyholders. The real-time assessment of data would increase the relationship between the insurers and policyholders.
The IoT insurance market is segmented on the basis of insurance type into P&C insurance, life insurance, health insurance, and others. The property and casualty insurance uses data from IoT-based sensors, actuators, and other smart devices that are connected via the Internet for proactive management of risks and reduction in policy costs. IoT-enabled wearables and fitness devices plays a significant role in providing health-related data to insurers, helping them to monetize health and accordingly offer premiums to policyholders.
The IoT market, segmented by insurance applications, includes automotive and transportation, home and commercial buildings, life and health, consumer electronics and industrial machines, business and enterprise, agriculture, and travel. The automotive and transportation held the largest market share in 2015 due to the early adoption of usage-based insurance (UBI) with telematics in automobiles. Most of the car insurance companies in the U.S. have been offering UBI to their customers. Additionally, the in-built sensors and global positioning systems help insurers to track, locate, and analyze the vehicle and enable insurers to monitor the driving behaviors for claim process.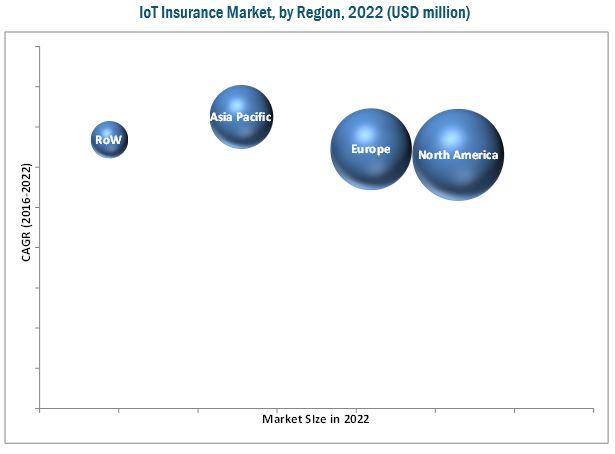 The APAC market is estimated to grow at the highest CAGR between 2016 and 2022. The development of IoT devices such as wearables, drones, Wi-Fi dongles, and inbuilt sensors that provide informative data to insurers would be the driving factor for the IoT insurance market in the APAC region.
IoT systems and software provide large amounts of real-time data that requires strong infrastructure offered by IoT vendors. These may lead to data loss and malfunctioning of the systems due to network failure and need to follow fixed communications standards for data transmission. Also, risks associated with the web of connected devices create privacy concerns, thus hindering the adoption of IoT by the insurers. These factors restrain the growth of IoT insurance in the market.
International Business Machines (IBM) Corporation (U.S.) is one of the major players in the IoT insurance market that offers IoT cloud platforms, IoT Watson, and other insurance services to insurance organizations. The company operates in five business segments, namely, Global Technology Services (GTS), Global Business Services (GBS), software, systems hardware, and global financing. IBM's Watson IoT platform comprises data analytics software and solutions that help insurers to manage data from wearables, weather, and others in terms of insurance-specific analytics. These offerings provide easy and quick claims payments, monitoring, and risk management.
Increase in IoT's real time data gathering and sharing capability would significantly improves the insurance predictive modeling for risk management and accelerate premium growth in the market
Connected Cars
In auto insurance, telematics connects sensors in automobiles with software apps in smart phones and captures driver behaviour for insurer analysis. The insurance business intelligence and insights gained through telematics improves pricing of policies, diminishes costs, and enhances value-added services for policyholders. The connected car implements embedded applications, in-cloud data management and user analytics. These solutions offer services to the insurance industries and insurer to be able to derive data from the sensor connected with cars. These solutions and services help to monitor and manage data from millions of vehicles in real time.
Connected Healthcare
Connected and intelligent devices leverage the opportunity for the health insurance industry. Healthcare and device manufacturing companies are developing the IoT driven healthcare systems with intelligent devices and sensors. These devices have the capability to transmit physiological data and information such as behaviour, environment, genomics, and mental health among others. For example, ITC Infotech's IoT-driven Connected Health enables remote monitoring of a patient's health and environment cost effectively. Data obtained from devices like health wearable are easy to share across system, making health care quick and responsive.
Logistics and Navigation
In insurance industry, the use of drones in logistic plays a major role. Walmart, Amazon, and others are using drones that help in inventory management in their business warehouses. This would enable insurers to track and improve package delivery and cargo delivery with safety. Additionally, for the navigation purpose, drones are used to track the goods from one location to another. These would help insurers to manage the goods where users would be able to identify and correct storage errors and help insurers to improve the overall quality of services provided to their internal or external policyholders. On-board camera and indoor geolocation technology are some of the IoT enabled devices which can be used for such applications.
Critical questions would be;
How IoT will change the insurance industry?
Where will implementation of IoT take the insurance industry in the mid to long term?
What are threats insurance companies can face with the implementation of IoT?