The wood plastic composite market is projected to reach USD 5.84 billion by 2021, at a CAGR of 12.4% from 2016 to 2021. The key factor for the wood-plastic composites market growth is the increasing demand from the building & construction application.
The major applications of wood-plastic composites are building & construction products, followed by automotive components. In building & construction application, wood-plastic composites are widely used in decking, molding & sliding, and fencing. Growing demand for high-performance, low-maintenance, and low-cost building products that are eco-friendly and offer maintenance-free properties is expected to fuel the global demand for wood-plastic composites in coming years. In addition, increasing demand for recyclable and biodegradable materials for manufacturing components, along with the superior mechanical strength, weight reduction, and fuel efficiency characteristics of wood-plastic composites are expected to enhance the demand for these composites during the forecast period.
Based on type, the wood plastic composite market has been segmented into polyethylene (PE), polyvinylchloride (PVC), polypropylene (PP), and others that includes acrylonitrile butadiene styrene (ABS) and polylactides (PLA). The polyethylene segment contributed the largest share to the wood-plastic composite market, in terms of value, in 2015. Due to its molecular structure and special arrangement of the molecules, polyethylene (PE) is widely used type in wood-plastic composites for producing decking including flooring, lumber, molding strips, furniture materials, wall cladding, hollow boards, hollow filler sections, and profiles.
The wood plastic composite market in Asia-Pacific is anticipated to grow at the highest CAGR between 2016 and 2021. The economies in China and India have witnessed growth, fuelled by the increased construction activities and investments in the expansion or upgrade of manufacturing facilities. China, Japan, and India are the largest economies in Asia-Pacific and have more opportunities for the growth of wood-plastic composites market in near future. Initiatives taken by governments to promote growth in the manufacturing sectors will further aid the growth of wood plastic composites market in these countries.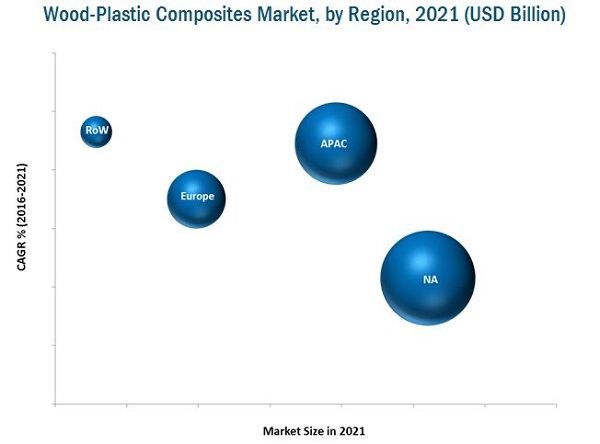 Wood-plastic composite' application in the building & construction products, automotive components, and industrial consumer goods industry is driving the growth of wood plastic composite market
Building & Construction Product
Wood-plastic composites are made of wood fiber, thermoplastic, and others, such as pigments, lubricants, blowing agents, and foaming agents, which are used in small quantities. They are durable, last longer than raw wood, and possess a long shell life. As they are mostly prepared using sawmill byproducts and recycled plastic, they are also considered to be eco-friendly. Due to the shift in customer preference towards wood-plastic composites, the market has been growing since the last decades.
Automotive Components
The application of wood-plastic composites in automobiles is growing, due to the increasing awareness among customers about the various use and benefits. Automakers are focusing on making automobile parts either recyclable, or biodegradable. The incorporation of wood-plastic composite-based parts, which are recyclable or biodegradable, is expected to enhance mechanical strength and acoustic performance, reduce material weight and fuel consumption, lower production cost, improve passenger safety and shatterproof performance under extreme temperature changes, and improve biodegradability for the auto interior parts.
Industrial & consumer goods
Industrial & consumer goods manufacturers constitute another large segment that uses wood-plastic composites. Although more expensive than unfilled PVC, wood filled PVC is gaining favor because of its balance of thermal stability, moisture resistance, stiffness, and strength. Patent activity is very high in this area. Many industries across the globe are offering wood-plastic composites in their product line, but their approaches vary. They extrude wood filled PVC with an unfilled PVC capstock for durability, while some companies extrude a PVC core with a wood filled PVC surface that can be painted.
Critical questions the report answers:
Where will all these developments take the industry in the mid to long term?
What are the upcoming industry applications for wood-plastic composites?
Estimating the future demand is a prime challenge for the wood plastic composite market due to the economic slowdown in various parts of the globe in the past decade. Many economies in the North America and European region have still not recovered completely, which has affected the demand for wood-plastic composites from major end-use industries in both regions.
TAMKO Building Products (U.S.), Trex Company, Inc. (U.S.), Axion international Inc. (U.S.), TimberTech (U.S.), and Fiberon LLC (U.S.), among others, are some of the major players that are operating in wood-plastic composite market. These players have a wide market reach with established distribution network and are investing more on research and development activities. They have strong technical and market development capabilities that enable them to upgrade their existing products for new market applications.
To speak to our analyst for a discussion on the above findings, click Speak to Analyst