The bacteriological testing services market is estimated to be valued at USD 9.58 Billion in 2017, and is projected to reach 13.98 Billion by 2022, at a CAGR of 7.8% during the forecast period. The market is driven by the global increase in outbreaks of foodborne illnesses, implementation of stringent food safety regulations in developed economies, and increase in microbial contamination in water reservoirs due to rise in urban & industrial waste.
The bacteriological testing services market, based on bacteria, has been segmented into Coliforms, Salmonella, Campylobacter, Legionella, Listeria, and others. The market for testing for Salmonella dominated in 2016, and is also projected to be fastest-growing segment during the forecast period. The severity of infection by this pathogen is generating demand for Salmonella testing in food and water samples, which in turn is driving the market for bacteriological testing.
The bacteriological testing services market, by technology, has been segmented into traditional and rapid. The rapid technology segment dominated the market in 2016, and is projected to grow at a higher CAGR by 2022. This is due to low turnaround time, higher accuracy, sensitivity, and ability to test a wide range of bacteria in comparison to traditional technological methods.
The bacteriological testing market, by end-use industry, has been segmented into food & beverage, water, pharmaceutical, and cosmetics. Testing for bacterial contamination in food & beverages is conducted for monitoring and assessment of food quality, and validation of food safety, in order to eliminate the risk of bacterial contamination. Bacteriological testing is performed across the food & beverage industry due to the rising incidence of food spoilage, foodborne illnesses, or food-related intoxication for the detection of various bacterial contaminations. The pharmaceutical segment is projected to grow at the highest CAGR in the overall bacteriological testing market during the study period. This is attributed to key factors such as the presence of well-established & globally accepted regulations that govern the evaluation of bacterial contamination during pharmaceutical manufacturing and raw material sourcing (coupled with the increasing volume of pharmaceutical drugs sold every year), increase in safety concerns related to pharmaceutical manufacturing in emerging countries, rise in market demand for safer drugs for disease treatment, and expansion of the drug development pipeline of key pharmaceutical manufacturers.
The bacteriological testing equipment market, by component, has been segmented into instruments, test kits, and consumables & reagents. This market was dominated by the instruments segment in 2016. The dominance of instruments is attributable to the introduction of sophisticated & improved technologies, increased effectiveness of instruments, and high price of such instruments compared to other components. The market for consumables & reagents is projected to be the fastest-growing during the forecast period. Consumables & reagents are vital components to be used to follow the set compliances of equipment. Therefore, increasing technical and regulatory complexity and their wide use in different instruments is driving this market.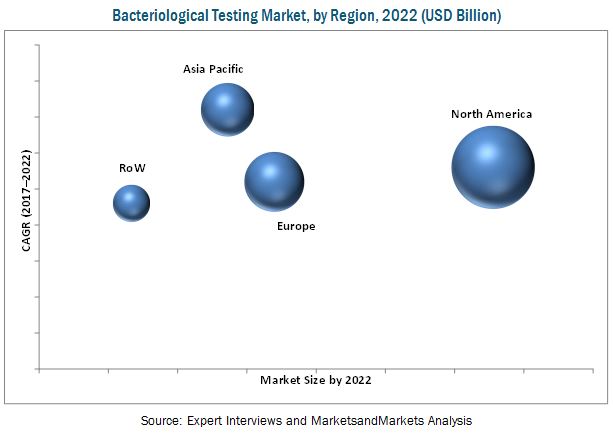 North America accounted for the largest market share in the bacteriological testing market. The dominant share of this region is attributed to the stringency of food safety regulations and laws pertaining to nutritional content and labeling in the region. It has the highest number of testing laboratories among all regions and tests the most number of bacteriological samples. The growth of the Asia Pacific market is projected to be the fastest from 2017 to 2022, and is driven by China, Australia, and Southeast Asian countries, as these countries are becoming more aware of food safety and are implementing regulations for their testing.
Lack of food control systems, technologies, infrastructural support, and resources in developing countries are the major restraints for this market.
The global market for bacteriological testing is dominated by large-scale players including SGS (Switzerland), Bureau Veritas (France), Intertek (UK), Eurofins (Luxembourg), TÜV SÜD (Germany), and ALS Limited (Australia). Further, 3M (US), Thermo Fisher (US), Merck (US), Agilent (US), Bio-rad (US), and Romer Labs (Austria) are some key equipment providers in the bacteriological testing market.
To speak to our analyst for a discussion on the above findings, click Speak to Analyst