The Internet of Robotic Things (IoRT) market is expected to be valued at USD 21.44 billion by 2022, growing at a CAGR of 29.7% between 2016 and 2022. The growth of this market is majorly driven by the adoption of IoRT by e-commerce industry, increasing application areas owing to integration of robots with various technologies, short payback period and ROI.
The IoRT services market is expected to grow at the highest rate during the forecast period. Factors such as increasing adoption of connected devices across organizations and evolution of high-speed networking technologies have encouraged organizations in every industry sector to adopt IoRT solutions. However, for the integration of new solutions into the company's existing infrastructure, companies would need managed and professional services to adopt IoRT solutions.
The market for device management platform was the largest in IoRT platform market in 2015 and is expected to grow at the highest rate during the forecast period. Organizations while using IoRT devices require platforms to manage information and applications. The major reason for growth for device management platform is because of growing requirements for access and control over IoRT devices across industries.
The market for security solutions is expected grow at the highest CAGR during the forecast period in the IoRT software market. The IoRT has brought about several security challenges such as point-of-sale (PoS) threat, threats at sensors, gateways, and end devices.
The IoRT market for smart robot component held the largest market size in 2015 as developing the IoRT products requires a lot of integration and assembly of various components such as sensors, actuators, power systems, control systems, and many other electrical and electronic devices. These are the key contributors for the connected robotic products. More customized and application-specific product requires more and more classified components.
The market for service robots application was the largest in 2015. The wide range of applications in service robotics is still expanding with the introduction of Internet of Things and its different capabilities in robotics. The medical, healthcare, domestic, and defense and security are few industries that have been adopting IoRT technology in its operations.
North America accounted for the largest market share of IoRT market followed by Europe in 2015. The rate of adoption of IoRT in North America is expected to be more as compared to other regions; it is expected to grow at the highest rate during the forecast period.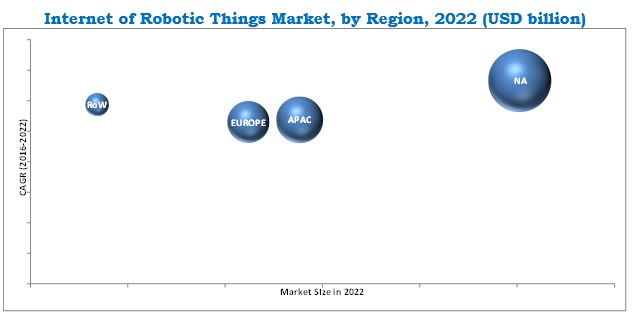 The major challenge for the companies in the market is implementation of high quality and reliable robots, and testing them with suitable solutions and data security and interoperability issues. High cost of R&D and long process of new product development are few restraints for the growth of IoRT market.
ABB Ltd. (Switzerland) is one of the leading companies in the IoRT market, followed by KUKA AG (Germany) providing integrated and connected robotic solutions with advancing technology to sustain in the collaborative industrial robots market. Key players in this market are increasingly undertaking mergers and acquisitions to acquire new technologies.
The key companies in the Internet of Robotic Things include ABB Ltd. (Switzerland), KUKA AG (Germany), iRobot Corp. (U.S.), Amazon.com, Inc. (U.S.), Google, Inc. (U.S.), Fanuc, Corp. (Japan), Cisco Systems, Inc. (U.S.), Intel Corporation (U.S.), Honda Motors Co., Ltd. (Japan), Yaskawa Electric Corporation (Japan), Northrop Grumman Corporation (U.S.), Aethon Inc. (U.S.), Bluefin Robotics Corporation (U.S.), Adept Technologies, Inc. (U.S.), Geckosystems International Corporation (U.S.), ECA Group (France), Robert Bosch GmbH (Germany), and Samsung Electronics Co. Ltd. (South Korea).
Benefits in the process output, data analytics, real-time streaming, and cloud support advanced automotive electronics will lead to the increased adoption of Internet of Robotic Things
Automotive
In the automotive sector, there has been a paradigm shift from the cost-intensive robots to versatile and reliable smart robots. Besides, within the manufacturing process, high-tech robots has proven to be more profitable with respect to productivity, by achieving new levels of speed, accuracy, precision, flexibility, and agility. Smart robots are used in the automotive sector in the production line to transfer materials from one location to another. To accomplish such tasks autonomously guided vehicles (AGVs) are used, which are often equipped with inductive sensors to track metal strips embedded on the factory floor.
Electronics
The electronics industry is dynamic, with new products being launched every year, the availability of a variety of applications, and potential new areas of applications. This demands precision, utmost repeatability, quality, and speed in almost every process supply chain, thereby creating decisive competitive advantages in terms of high productivity and low production costs. Robots are mainly used in the assembly lines of computer hard drives, grinding of optical lenses or assembly of fuel cells, and other similar complicated tasks.
Field
The use of robots in the agriculture sector is fairly recent. Numerous milking robotic products have emerged in the recent years with resounding success. Milking robots, however, require huge initial investments, and since the cows are milked more frequently, the fat concentration in milk is also lesser. The future developments in this field may involve the detection of abnormal milk, detection of heat, and analysis of milk components.
Critical questions would be;
Where will all these developments take the industry in the mid to long term?
Which application will hold the major market potential in internet of robotic things ecosystem?
Which will be the major market expansion strategy adopted by the players in the studied market?
To speak to our analyst for a discussion on the above findings, click Speak to Analyst