The global virtual power plant market is projected to grow at a CAGR of 29.68% from 2016 to 2021, to reach a market size of USD 709.2 million by 2021. This growth is attributed to the increasing penetration of smart grid technologies as well as increase in residential energy storage system has given rise to the market. An aggregated fleet of distributed energy resources would provide high value to the grid distribution system. Thus, leading to energy efficiency and power savings.
Virtual Power Plant is a combination of various distributed electricity generation entities which are controlled and operated by a central unit using integrated software systems. This technology has the capability to stretch supplies from existing power generation sources (both renewable and nonrenewable energy sources) as well as through utility demand reduction programs. Virtual power plant solutions can be associated with various concepts such as smart grid, microgrid, distributed generation, demand response, and advanced energy storage, among others.
The report segments the virtual power plant market on the basis of technology such as demand response, distributed generation and mixed asset. The demand response segment is projected to dominate the market. This is mainly due to various advantages that it provides such as peak load management and earning incentives by participating in demand response program.
The report segments virtual power plant market based on end-user segment such as commercial & industrial and residential. The residential segment is expected to grow at the fastest pace during the forecast period. The global market is growing in residential homes through participating in demand response programs, energy storage system and distributed generation. It helps in delivering energy at peak usage times and the end users can save up the surplus power in energy storage devices such as solar panels, batteries, among others. Also, government mandates and initiatives for customer engagement, and incentives programs might prove to be an added boost for the residential end-user segment. The growing infrastructure sector, especially in Asia-Pacific region is likely to drive the overall market during the forecast period.
In this report, the virtual power plant market has been analyzed with respect to four regions, namely, North America, Europe, Asia-Pacific, and Rest of the world which includes Latin America and the Middle East and Africa. North America is expected to dominate the global market during the forecast period, owing to the extensive use of these solutions in commercial & industrial as well as residential sector. The Asia-Pacific market is projected to grow at the highest CAGR from 2016 to 2021. The region is the largest market for the infrastructure sector and industrial sector and is taking various steps to reduce carbon footprint and produce clean energy which includes renewable energy such as hydro energy, wind energy and solar energy generation.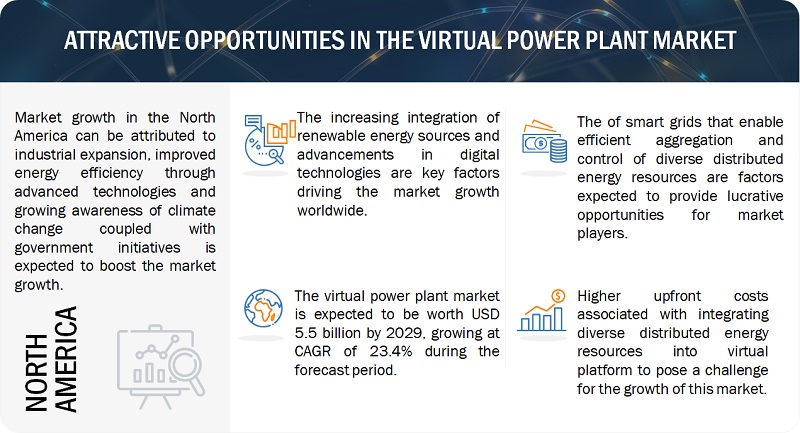 Shift from centralized to distributed power generation drive the growth of market
Distributed generation refers to geographically dispersed power generation sources, which are usually less than 10 MW. It comprises both controllable sources, such as generators, and non-controllable sources, such as solar and wind. The demand for energy from distributed energy resources is growing globally due to a number of reasons, such as planned rolling blackouts, power quality problems, unexpected utility power outages, and increases in power costs, among others. So instead of relying totally on utilities for power needs, all end-users, from residential and commercial to industrial customers, have started generating their own power based on these sources. Also, utilities have started shifting their business models from directly selling electricity to involving end-users as a part of their business in order to cater to peak demand without large scale capacity additions. Hence the growth of distributed generation would necessitate growth of the market.
Virtual Power Plant has been segmented demand response, distribution generation, and mixed asset based on technology.
Demand Respons
Demand response can be defined as managing of electricity usage based on a change in the price of power. It enables customers to contribute to energy load reduction during times of peak demand by cutting consumption during peak hours with the help of virtual power plant solutions and software.
Distributed Generation
Distribution generation is a decentralized energy which is generated or stored by a variety of small, grid connected generators referred to as Distributed Energy Resources (DERs) or distributed energy resource systems. With the increasing intensification of energy crisis and environmental pollution problems, the development of new renewable energy has become more and more serious. In order to realize the better integration of these, distributed power generation resources with the help of virtual power plants can be effectively optimized.
Mixed Assets
Mixed Asset consist of multiple technologies such as solar power, battery storage, and energy efficiency systems that are efficient in reducing energy consumption as well as suppling clean power in targeted ways.
Critical questions the report answers:
Where will all these developments take the industry in the mid to long term?
What are the upcoming industry applications for virtual power plants?
To speak to our analyst for a discussion on the above findings, click Speak to Analyst
Health safety concern related to radio frequency exposure could be a restraint of the market which might lead to decline in profit. Additionally, RF emissions from smart meters are within the U.S. Federal Communications Commission (FCC) limits. However, some campaign groups (such as Stop Smart Meters U.K.) in both the U.K. and the U.S. believe smart meters to be unnecessary health and security risks. Hence, these uncertainties with respect to smart meters would hinder the market growth.
Key players in the virtual power plant market include ABB Ltd (Switzerland), Siemens AG (Germany), Schneider Electric SE (France), EnerNOC, Inc. (U.S.), Comverge (U.S.), Limejump (U.K.) and Flexitricity (U.K.). Contracts and agreements was the strategy most commonly adopted by the top players, constituting 58% of the total developments from 2013 to 2016. It was followed by new product developments, expansions and investments, and mergers & acquisitions.