The global robot software market is expected to grow from USD 1,142.2 Million in 2017 to USD 7,527.1 Million by 2022, at a Compound Annual Growth Rate (CAGR) of 45.8%. Growing need to reduce costs while maintaining quality, and increasing adoption of Internet of Things (IoT) and Artificial Intelligence (AI) are the key drivers for the market.
The report provides detailed insights into the global robot software market based on software types, robot types, deployment models, organization sizes, verticals, and regions. Among the software types, recognition software is expected to have the largest market size during the forecast period. This software is integrated behind the robots that offer them the cognitive ability to recognize the object and respond to them appropriately.
In the robot type, industrial robots are expected to have the largest market share during the forecast period. As labor issues and competitive pressures increases, organizations need solutions that reduce manual labor and increase operational efficiency.
The on-demand deployment model is expected to have a higher adoption rate as compared to the on-premises deployment model. By using cloud-based deployment, organizations can avoid a large amount of cost pertaining to hardware, software, data, maintenance cost, and staff. The manufacturing vertical is expected to have the largest market size during the forecast period due to robot simulation software, which makes robotic automation a viable option for all the manufacturers.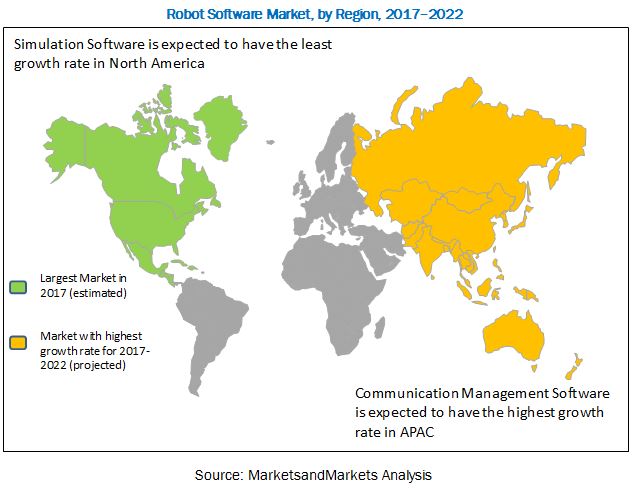 The report covers all the major aspects of the robot software market and provides an in-depth analysis in the regions of North America, Europe, Asia Pacific (APAC), Middle East and Africa (MEA), and Latin America. The market in North America is expected to have the largest market share. The APAC region is projected to provide significant opportunities in the market and is expected to grow at the highest CAGR during the forecast period. APAC being a manufacturing hub is expected to adopt the robot software substantially, to remain cost-efficient and export high-quality goods to other countries.
On contrary, malware attack on data engulfed by robots is the major restraining factor for the growth of the robot software market. Challenges related to criminal liability, and concerns over data protection and cybersecurity are the major challenges in the market.
Most of the vendors in the robot software market have adopted various growth strategies, such as acquisitions, agreements, collaborations and partnerships, new product launches, product upgradations, and expansions, to expand their client base and enhance the customer experience. For instance, in July 2017, IBM unveiled an IBM Watson-based service platform, built on IBM cloud. The platform is expected to supplement human intelligence to offer the cognitive technology that helps users to enhance their productivity.
To speak to our analyst for a discussion on the above findings, click Speak to Analyst