The connected enterprise solutions and services offer a pro-active and real-time monitoring of business activities, providing comprehensive control over various tasks in the enterprise ecosystem. The security solution is growing rapidly owing to the increasing adoption of connected enterprise systems and growing security concerns.
The connected enterprise market is broadly classified into solutions, services, platforms, verticals, and regions. The solutions segment is further divided into real-time collaboration, enterprise infrastructure management, streaming analytics, security solution, data management, remote monitoring solution, network management, mobile workforce management, customer experience management, and asset performance management. Compared to solutions, the services segment is expected to grow at a higher CAGR during the forecast period. The services in the connected enterprise market are aimed at enabling smart and coordinated decision-making processes and mitigating the risks and vulnerabilities of Internet of Things (IoT) in enterprises using efficient tools and techniques. Moreover, these services enhance data management techniques and help to meet the end-to-end needs of all the verticals.
The security solution is expected to grow at the highest CAGR during the forecast period, as it is specifically focused on data security, which is the prime need of the enterprise. Moreover, the data management solution offers flexibility and scalability to enterprises, as their most important asset is data. These solutions help the enterprises gain operational efficiency and bandwidth as per their requirement.
With the increasing usage of numerous devices across enterprises, various advanced threats have also evolved and the need to maintain the safety and confidentiality of enterprise data has become crucial. Due to the large number of devices connected in a connected system, tampering with even a single device in the network can turn out to be a potential threat for the enterprise. Connected devices need a dedicated security solution as this need cannot be met by PC security solutions for IoT embedded devices.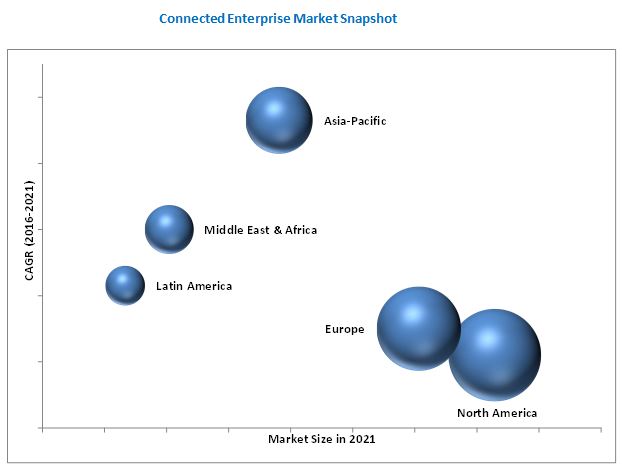 The adoption of connected enterprises solutions and services is growing at a fast pace in the developing regions. North America is expected to account for the largest share in the connected enterprise market, followed by Europe, in 2016. Rising need for automation and cloud computing across industries is one of the important market drivers for connected enterprises. Another important driver is the realized potential of voluminous data for better processes and operations in enterprises. However, the lack of standardized skills and privacy & security issues act as major restraining factors for the market.
Increasing need of automation and cloud computing across industries drives the investment in the connected enterprise market
BANKING, FINANCIAL SERVICES, AND INSURANCE
The Internet of Things (IoT) has a powerful impact on banking and financial services as it will lead to discovery of concealed facts. Integrating IoT with BFSI would help in customer engagement, building customer loyalty and leading to acquisition and retention of customers. Nowadays, it is very difficult for banks to differentiate themselves according to the product and prices they offer to their customers. Banks can monitor the spending pattern of customers to come up with suitable offers for customers. Through sensors, banks can send offers to the customers as soon as they enter a branch office. Connected enterprise would help in business improvements by tailoring the products and services according to the customer. Through sensor data, BFSI organizations will be able to improve customer experience and back-office performance. Financial institutions can redefine their customer engagement and should take the competitive advantage offered by IoT.
TELECOMMUNICATIONS AND IT
Unlike other industries, connected enterprise has an altogether different role in the telecommunications and IT sector. With growing complexities in the infrastructure of telecom services, the need to keep track of the elements in the system has increased exponentially. IoT helps in updating IT architectures, operations, and process policies to renovate efficiency. Telecommunication service providers can cut down on their operational cost by applying middleware for software defined networking and network function virtualization. IoT in telecommunication and IT is helpful in terms of enhanced data security and privacy, interoperability, asset management, and real-time analytics, among others.
RETAIL AND E-COMMERCE
E-commerce and retail is growing every year and has no signs of slowing down in the future. The IoT technology would help in reshaping and revolutionizing the retail industry by creating new opportunities for customer services and supply chain and improving customer experience. IoT has helped retailers with tools and insights to transform their business by automating the business, refining the business processes, and reducing the operational cost. IoT helps in inventory management by deploying sensors and RFID tags on the products to track them in real time. It helps in fleet management by allowing a certain set of rules to be followed, i.e., the delivery route, recommended speed, and alerts for any extended stoppages. IoT helps in real-time promotions, which are sent on the basis of the customer's shopping history, personal preferences, and location.
HEALTHCARE AND LIFE SCIENCES
IoT connected to various systems and products is changing the businesses in the healthcare industry. Both patients and doctors are benefited from IoT devices, which can be accessed by mobile applications that allow users to monitor the health data. The reason for this trend is that integrating IoT features into medical devices greatly improves the quality and effectiveness of services, bringing especially high value for the elderly, patients with chronic conditions, and those requiring constant supervision. IoT can be used to supplement patient treatment through remote monitoring and communication, and to keep track of patients as they move through a healthcare facility. This could cut down the necessity for routine reviews and checkups. Therefore, IoT helps organizations to take up the critical data in a real time and achieve a better decision capability.
MANUFACTURING
IoT has improved visibility in manufacturing to the point where each unit of production can be seen at each step in the production process. It brings the opportunity for the manufacturing companies to make a change in operational innovation and operational excellence. Manufacturers are continuously adding software and sensors to the products providing IoT function, which in turn becomes the critical components in smart manufacturing. IoT lowers cost, reduces resource consumption, optimizes operations, improves productivity, enhances customer service and manages the supply chain operations, leading to revenue growth and cost savings.
Critical questions the report answers:
Where will all these developments take the industry in the mid to long term?
What strategies are the vendors adopting to increase their hold over the market?
To speak to our analyst for a discussion on the above findings, click Speak to Analyst
The connected enterprise market is growing rapidly and is being widely accepted across the regions. The solutions and services that connected enterprise offers are proving to be very efficient for getting optimum production with minimal utilization of the resources. There are several established players in this market such as Rockwell Automation, Inc. (Wisconsin, U.S.), Cisco Systems, Inc. (California, U.S.), PTC, Inc. (Massachusetts, U.S.), Microsoft Corporation (Washington, U.S.), IBM Corporation (California, U.S.), Robert Bosch GmbH (Stuttgart, Germany), Honeywell International, Inc. (New Jersey, U.S.), General Electric (New York, U.S.), Accelerite (California, U.S.), and Verizon Communications, Inc. (New Jersey, U.S.).