The top 10 automotive technologies are projected to grow at a CAGR of 17.35%, to reach a market size of USD 139.02 Billion by 2021. Increase in demand for luxury vehicles with advance technologies is driving the market for Top 10 Automotive technologies. Also, Government Regulations towards safety feature has propelled growth of automotive technologies.
On board internet services market is largest market as compared to other automotive technologies. The automotive on board internet services market is driven by increasing concerns regarding safety and security, government regulations, reduction in connectivity cost, and the growth in the usage of the smart phones. Data security and privacy concerns, the short life of electronic systems, and lack of on board internet services infrastructure in emerging economies such as Brazil, and Russia are factors responsible for hindering the growth of this market
The major players in top 10 automotive technologies market are Delphi Automotive PLC (U.K.), Continental AG (Germany), Robert Bosch GmbH (Germany), and some on board internet service providers are Agero (U.S.), Airbiquity (U.S.), and WirelessCar (Sweden). The major telecom companies which provide connectivity for on board internet services are AT&T (U.S.), Verizon (U.S.), and Vodafone (U.K.).
The Asia-Pacific is expected to dominate the market for the top 10 automotive technologies, and is projected to capture the highest market share in terms of value during the forecast period. Asia-Pacific has created promising opportunities for automobile market and technology provider companies. Rapid Urbanization contribute to increase in vehicle sales, which is expected to push the market by leading to growth in vehicle sales. Presence of high growth potential markets such as India, China, South Korea amongst other Asia-Pacific countries having rigid economic strictures, favorable regulations for establishing business are among the few factors the automotive technologies market has witnessed high growth. The Asia-Pacific aftermarket for top 10 automotive technologies is growing at a CAGR of 19.30% during the forecast period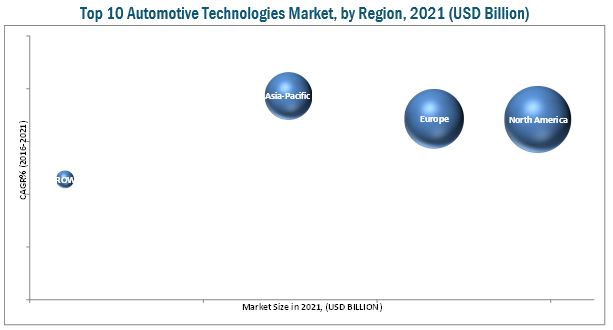 A key factor restraining the growth of the top 10 automotive technologies is over increase in vehicle cost; the demand for safety features has increased and the consumers expect better products. The competition between OEMs has forced them to innovate. However, the cost of on board internet services is high, making consumer friendly and regulatory compliant systems an important aspect of system development. The companies invest heavily in R&D for developing such sophisticated systems. The system contains a number of software-driven electronic components, which increases the overall cost of the vehicle.
To speak to our analyst for a discussion on the above findings, click Speak to Analyst